The DSN for Global Trade & Logistics provides a global trade industry credential exam prep boot camp for faculty, students and businesses. Santa Ana College faculty and students attend these trainings and take the credential exam fully subsidized by the program.
Careers Growing in Global Trade
Cutting-Edge Knowledge Augments College Curricula
Lynn Stewart understands that global trade and logistics is a blink-and-you'll-miss it kind of industry, and she is highly motivated to share the many and varied employment opportunities for community college students and graduates in the exhilarating world of international trade.
Staying on the cutting edge of global trade issues is part of Stewart's work as Deputy Sector Navigator for Global Trade & Logistics for Orange County under California's "Doing What Matters for Jobs & the Economy initiative," in addition to her efforts as director of the Orange County Center for International Trade Development.
As a DSN, Stewart's work is part of the initiative designed to make community colleges essential catalysts to California's economic recovery and creating jobs at the local, regional and state levels.
"As center director, I serve the business community in international trade through industry specific training, education and international trade services," Stewart explains. "As a DSN I concentrate on infusing global content into the classrooms and curriculum, creating certificate and training programs as well as introducing students to global trade to create a pipeline into our programs."
For instance, Santa Ana College offers industry credential training aligned with a certificate that qualifies successful applicants to work in entry-level positions. An exam subsidy has been provided to allow SAC students to prepare and sit for the Certified Global Business Professional (CGBP) credential exam.
"We do a lot of promoting in the Business 100 and other foundational classes to make the students aware of these career paths and opportunities," she says. Stewart says she receives continuous feedback on the development and training programs offered locally to educate future workers in global trade. To ensure faculty members and business leaders have firsthand knowledge, she invites them to her industry advisory board that provides input on programs and curriculum. Stewart provides professional exposure for faculty through externship opportunities with local companies, and pays for their attendance at industry conferences. She also subsidizes the exam fees if faculty members pursue industry credentials.
An example of how Stewart works hand-in-glove with faculty members is a Business and Global Trade Boot Camp for high school students that was presented to increase the readiness and access of high school students to business and global trade and logistics.
Students learned about entrepreneurship, global trade, occupations, toured the Port of Los Angeles and spoke with a representative from Santa Ana College. Eighteen students attended the boot camp and out of those, six students then enrolled in business and international business classes at Santa Ana College while still in high school.
Perhaps most noteworthy is that her work is establishing a pipeline of students for SAC and Santiago Canyon College in the business and international business programs. She launched the first Global Trade & Logistics pathway in K-12 schools with the Orange Unified School district in fall 2016. It serves four high schools, is taught completely online and articulates to Santa Ana College. The 306 students enrolled in classes that are part of this pathway can earn college credit.
"Engaging high school and community college counselors in understanding the importance of career readiness can never be overstated," says Gustavo Chamorro, Ed.D., Orange County director, Los Angeles-Orange County Regional Consortia of California Community Colleges. "According to the Georgetown University study, 'Recover: Job Growth and Education Requirements through 2020,' in today's economy, being 'well prepared' means continuing education or training beyond high school."
A proof in point of her work as a DSN, Stewart says, is a Santa Ana College student who transferred to Cal Poly Pomona for an international business degree, then earned an international trade credential and is now an international trade specialist for the U.S. Department of Commerce.
"The key areas for employment - Import/export logistics, international marketing, global supply chain management, global sourcing, regulatory compliance and global sales - all continue to be top advertised and marketed jobs," Stewart says. "With regulatory compliance in exporting and importing, they can't fill those jobs fast enough."
[ Return to top ]
---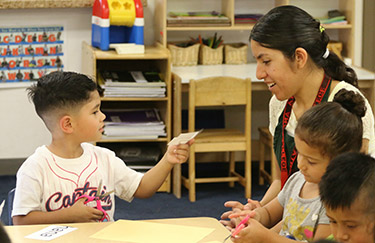 Ensuring Education for Young Parents
Child Development Services Tailors Learning Programs
When Janneth Linnell discovered that lack of child care was the No. 1 barrier to women in pursuing higher education, she was doubly committed to her work as executive director of Child Development Services for the Rancho Santiago Community College District.
Linnell is proud that the department is exclusively grant-based, remaining self-sustaining thanks to federal, state, foundation, and other grants.
Two of its recently developed programs aim to make it easier for young women to pursue an education during and after their pregnancies.
An evening care program at Centennial Education Center's (CEC) Child Development Center for adult students attending evening classes serves 75 children every night between 6 and 9 p.m. This collaborative program is funded by the Adult Education Block Grant in collaboration with Centennial Education Center, Think Together and the Santa Ana Unified School District.
A new Child Development Center at Valley High School, operated through Santa Ana College Early Childhood Education Center, helps pregnant and parenting students continue their education. It receives funds from several sources, including the California Department of Education, and Early Head Start. In addition to providing child care, the center helps ensure that students remain in high school regardless of pregnancy or childbirth by providing home visits, prenatal care and instructions on what to expect once the baby arrives.
"We put all our resources at their fingertips for them to have the opportunity to access our services," she explains. "If they successfully complete their high school graduation, the students receive free tuition at Santa Ana College through the Santa Ana Promise Initiative. The Child Development Services team works with them to ensure early admission and access to continued free child care at the college and other resources."
When it comes to supporting young students who will become parents or are already parents, Linnell says, there is a need for nuanced service programs to encourage their education and support them as parents.
"These kids are very young and their thinking is very young," notes Linnell. "It is a very different demographic; they need to recognize that even though they are minors, they are still responsible for their child legally, along with all the rights and responsibilities of parenthood. Some of them find it nearly impossible to fill out a simple form requesting services for their child."
If the students show an interest in working with children once they enrolled at Santa Ana College, the Student Placement Office helps them get part-time jobs on-site in the Child Development Center classrooms, where they can learn job skills, gain practical experience, and earn money as they take college classes. Work hours are arranged around their class schedules.
"We're preparing future teachers and educators by giving them working, practical experience where they can explore firsthand, in a realistic setting, the theories and practice that they learn in their classes," Linnell explains. Students completed more than 6,411 lab hours in essential supplemental coursework last year, she adds. FTES for the Child Development Services and Early Childhood Education Department last year together totaled 413.77 FTES.
To provide help to these students, Linnell notes, the district's experienced Child Development Services staff is savvy about student-parent's needs and willing to help them overcome any achievement gaps that separate them from other students. "The department program sets the pace in terms of providing quality care and education to a needy population," she says, "and is one of the few nationally accredited centers in Santa Ana."
[ Return to top ]
---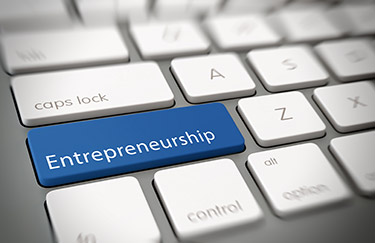 Encouraging Entrepreneurial Innovation
Sector Prepares New Small Business Owners for Success
Following her work as the Statewide K-14 Career Pathway Technical Assistance Provider for the California Community College Chancellor's Office, as well as her time as the interim dean of business and career and technical education at Golden West College, Angela Allison comes well-prepared to serve as the interim Deputy Sector Navigator (DSN) for Small Business and Entrepreneurship.
Having worked at the state, regional, and local levels, including Rancho Santiago Community College District, Allison says, she is a servant-leader dedicated first to serving students, giving them the resources they require to get up and running as entrepreneurs.
"Our primary goal is to serve the students," she declares. "If we fail to do that, we are not meeting our goal." Opportunity is ripe. According to the Employment Development Department, there are more than 1.3 million small businesses that employ over 7.6 million people statewide.
Small businesses and the entrepreneurs behind them have historically been a constant source of economic growth, jobs, and innovation across all sectors of the economy, notes the Small Business Sector's Small Business and Entrepreneurship Pathway Guide. By fostering a new generation of individuals with entrepreneurial skills, the sector brings with it the potential for success, no matter what area of study an individual may ultimately decide to follow.
Allison recently took over as DSN from Elizabeth Arteaga, who is now serving as interim associate dean of Business and Career Technical Education at Santiago Canyon College. Ensuring that Santa Ana and Santiago Canyon colleges' dynamic curriculum and hands-on faculty are up-to-the-minute is a key way to prepare tomorrow's successful small-business leaders, Arteaga notes. Allison points out that many faculty members offer firsthand experience in the classroom because they are entrepreneurs themselves.
Another way to equip SAC and SCC faculty with the most current news and industry information about current trends, breaking news and industry information, new ideas and recent innovations is to leverage RSCCD's partnership with Orange County Small Business Development Center (SBDC), as well as the sector's well-trained business consultants.
"We need to be prepared to help anyone who comes to us for assistance to start or grow their own business, by putting them in touch with industry leaders and providing boot camp and other training to prepare them for success," she says. One example Arteaga cites is a young Orange County student who won a prestigious spring 2017 statewide business plan competition, received a scholarship and startup funding, and now operates a successful business. She was recognized at an exclusive industry event in front of more than 600 business leaders."
"Connecting people and resources in all sectors of the business world is a natural fit for me," Allison says. "Through a grant hosted by RSCCD, I traveled statewide sharing best practices, examining the educational systemic challenges, and teaching educators to leverage resources."
While the downturn in the U.S. economy meant layoffs, today there is a resurgence of opportunity for business curricula to help attract small businesses, new and prospective business owners, and business consultants.
"Our students have opportunities in this area as there are fewer professionals in the marketplace," she notes. "Many small business owners are relying on part-timers and freelance consultants to ensure continuity of service and this is the opportunity for our graduates to work with successful companies."
Through the sector, prospective entrepreneurs can access direct services to business and industry include training, business resources, and no-charge, one-on-one consultation on business development, operations, marketing, financing, government operations, marketing, financing, government and corporate contracting and exporting. Workshops, seminars and conferences are offered on a variety of topics, including access to capital, traditional and online marketing, and sales.
Allison says networking and promotion of district small business programs, training and faculty, and its partnership with the Orange County SBDC, are important ways to connect with potential students who can benefit from the district's continuing education and training programs. "We want to ensure that our work is integrated and that we collaborate within our network," she adds.
To expand the sector's network, Allison plans to make presentations in and around Orange County to inform the public, including potential new business owners and entrepreneurs, about the district's opportunities.
"We act as a kind of entrepreneurial concierge," she adds, "bringing resources together from many different entities and organizations."
[ Return to top ]
---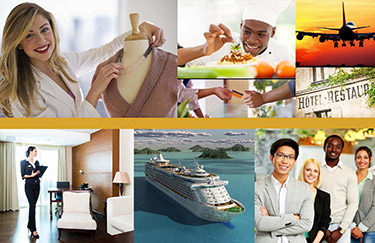 Employing Strategic Collaborations
Working Creatively to Fill Retail-Hospitality-Tourism Jobs
Though economists predict that employment gains will level off, local hospitality and tourism job opportunities have long made Orange County an epicenter for tourists - and continue to do so regardless of recent economic downturns.
For Ruth Cossio-Muniz, who has spent more than 15 years managing collaborative projects in the public and private sectors, continued economic and job growth in the leisure industries means working harder than ever to prepare qualified job-seekers to fill attractive Southern California positions.
Since 2013, Cossio-Muniz's position as Deputy Sector Navigator (DSN) for Retail-Hospitality-Tourism has empowered her to use her expertise in the business and education fields to benefit employers in the retail, hospitality and tourism industries - and to match their available industry positions with well-trained, well-educated staff.
In her work as DSN, Cossio-Muniz collaborates with employers and community colleges to tailor business curriculum to industry demands, creating key training coursework and developing opportunities to expose career pathways in retail, hospitality and tourism for students.
For example, Cossio-Muniz works with Santa Ana College faculty in its Fashion Design & Merchandising program to align its coursework with industry needs to prepare students for entry-level positions in the apparel industry. Through the grant, she sponsored a membership for the department to access WGSN, a subscription that provides market-leading trend forecasting for fashion and the creative industries, design validation and big data retail analytics.
Retail employs more than 42 million people and is responsible for 1 in 4 jobs in the United States. In 2016, leisure and hospitality jobs accounted for about 11.5 percent of non-farm wage and salary jobs in California. Many of these jobs serve the local population, and include positions in lodging, food services, the performing arts, museums, amusement parks and gambling establishments.
Leisure and hospitality employment grew by 3.7 percent in 2016 to 1.9 million jobs, with an additional expected gain of 1.8 percent in 2017 and 1.5 percent the following year. Tourism jobs include positions in hotels and lodging, spa management, restaurants, wineries and travel marketing, among many others.
Retail Management
In agreement with the Doing What Matters grant, Cossio-Muniz also sponsors online work skills assessments and interactive training modules for students throughout the regions to prepare for the workforce and develop an understanding of soft skills, a much-needed trait in demand by employers. Currently, students in SAC automotive, diesel and the fire technology programs have taken the online KeyTrain modules to score high on the WorkKeys assessments and earn the ACT National Career Readiness Certificate, an industry-recognized credential that identifies an individual's skill levels in reading for information, applied math, and locating information - all essential skills required for virtually any job. Employers look for the ACT Certificate from job candidates, Cossio-Muniz says, because it is a valid predictor of job performance.
Cossio-Muniz adds that she also wants to help serve students better with increased off-campus opportunities, including internships and work experience. Her liaison work helps to ensure that prospective employers' open communication with faculty so that each can easily reach out to the other, she says. "We want faculty to develop great partnerships with industry so that they can invite industry leaders to sit on advisory boards and have representation on steering committees, etc.," Cossio-Muniz adds.
Regarding workplace needs, Cossio-Muniz says major feedback from all industry sectors is the demand for so-called 'soft skills,' sometimes defined as "skills which characterize relationships with other people, or which are about how you approach life and work."
"Employers have consistently shared that most students lack the soft skills required to work in the professional environment," she says. "Human resources managers can invest in teaching the technical skills when hiring for work, but they expect the candidates to be capable of problem-solving, communication, time management, having strong work ethics and being a team player."
A program that addresses this skills gap, initiated by the Doing What Matters project - under which the DSNs operate - is the coordination of workshops with the community college feeder high schools to train students in customer service that covers these concepts, she notes. "After participating in the workshops and completing a one-hour exam, students who successfully pass are recognized as Certified Guest Services Professionals (CGSP) by the American Hotel & Lodging Association."
Community college students can experience prospective jobs firsthand in the retail, hospitality and tourism industries by participating in Job Shadow Days with global hotel brands that Cossio-Muniz hosts several times throughout the year. Students are also invited to the Retail REVEAL event at local malls, in which more than 25 major employers and business partners engage in one-on-one interaction.
"Having the one-on-one interaction with employers allows the students not only to apply what they've learned in the classroom to the real-world setting during these networking functions," Cossio-Muniz says, "but also provides them with the opportunity to use their skills and knowledge to secure jobs when attending these hiring events."
[ Return to top ]
---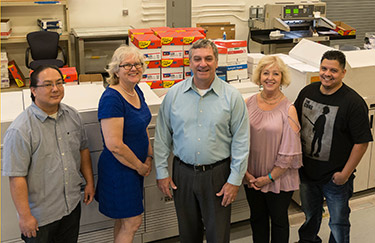 Publications & Electronic Media Manager Dean Hopkins (center) and Publications Center team members (from left to right) Gregory Eng, Sally Vizthum, Ann Odle and Albert Flores provide a full range of reprographic services and expertise to RSCCD.
Raising Public Awareness
Public Affairs & Publications Department Tells the Stories of RSCCD
A public affairs professional with 30 years' experience, Judy Iannaccone sees clear, accurate and concise communications as the mission of the Public Affairs and Publications Department. With a background in nonprofit communications and city government, Iannaccone came to the Rancho Santiago Community College District 16 years ago with the goal of informing the community in the best ways possible about the programs and services of the district and its colleges, its high-caliber faculty and employees, and its amazing students.
The Public Affairs and Publications Department serves the college district and its colleges, building relationships with residents and organizations, potential students, and the media among others. The department encompasses Graphic Communications, offering graphic design and desktop publishing services; Public Affairs, providing journalists with prompt responses and updating the district's online resources as well as supporting social media, marketing and employee communications needs; and Publications, furnishing a full range of reprographic services from black and white copies to digital color printing and finishing services.
Balancing a tight budget and yet still providing communications support for the district's many programs, departments and events is challenging enough, but the burgeoning, increasingly diverse populations the district serves offer new opportunities every day to maximize available resources.
"The LINK Newsletter, for example, is designed to bring home to our district-wide internal audience the message that Educational Services' work has far-reaching meaning for the colleges and great purpose for the students we serve," Iannaccone explained. Several times a week, the department issues news releases about district and college events and people to make those stories come to life.
The department's work expanded recently when marketing funds were provided to do brand development research to enable Santiago Canyon College to create and send more effective messaging to students, faculty, staff and prospective students. "SCC needed to differentiate itself," she says. "To my knowledge, until recently, such research had never been done in the district."
The research included focus groups, discussions and surveys leading to the overarching marketing message, "What Happens Here Matters." The campaign features 'micromoments' of memorable experiences that have dramatically impacted students, alumni, faculty and staff. Such moments resonate with prospective and current students, parents, as well as alumni, college faculty and staff.
"We want to show the moments that count," Iannaccone says. "So, we are capturing the meaningful times when a student first realizes her future potential in the workplace, or a student suddenly masters a complicated mathematical calculation."
Then using communications tools ranging from advertising to public relations the district illustrates how the community college has made that moment possible. Such peer-to-peer, experiential marketing targets students who are interested in practical career training and university transfer preparation and connects them with the relevant education Santiago Canyon College provides.
The department helps to raise public awareness of our colleges and motivate prospective students, parents and other community residents to learn more about the many quality programs offered. "Of course," Iannaccone adds, "in order to achieve enrollment growth, getting people in the front door isn't enough - we must retain the students once they are here."
Indeed, students come first for Iannaccone and her team, and they work hard to ensure that they tell the stories of student success and that the colleges are provided with key services such as graphic design and printing.
[ Return to top ]
---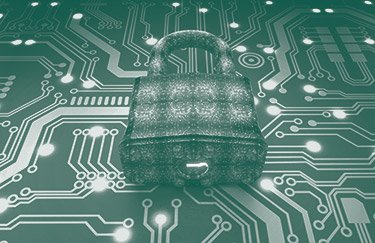 A Boost Up the IT/Digital Media Ladder
Retired Tech Professor to Lead as New Deputy Sector Navigator
As a Sierra College professor emeritus and an acknowledged statewide leader in information and communications technology, Steve Linthicum brings a passion for IT and cybersecurity and a love of preparing students for the workplace to his new position as District ICT/Digital Media Navigator.
Deputy Sector Navigators (DSN) serve as contacts for the statewide Doing What Matters effort, which is designed to show the many ways community colleges are integral to the state economy. As DSN for Information and Communications Technologies and Digital Media for the Orange and Los Angeles county region, Linthicum works with local community colleges and employers to align workforce training and career pathways.
In addition to his former teaching position, he was Deputy Sector Navigator in the Greater Sacramento Region prior to coming here. He works to identify and promote effective strategies and pathways necessary to build the pipeline of information technology workers from middle schools and high schools, and contributes to accelerated student outcomes by helping colleges acquire the technology to train students remotely and providing faculty development and system support.
"I recognize the challenges faced by companies in the Orange County and Los Angeles regions," Linthicum says. "As a former professor of cybersecurity, I have a distinctive perspective toward working with faculty. I've been heavily involved in the academic side of the house, ensuring classes are designed from an academic standpoint but to enable students to get jobs. I'll be able to help the colleges effectively meet the developing IT and cybersecurity and digital media needs of businesses and industry."
Linthicum says one of his initial efforts will be to underscore the work of industry leaders and faculty members to align the common course curriculum with the changing needs of the workplace.
"My goal relative to the colleges' curricula is to focus on aligning courses to the statewide Common Course Identifier Program," he says, a common course numbering system adopted in 2006 by the Academic Senate for California Community Colleges. "Alignment ensures students seeking IT/cybersecurity training that they can take the classes they need toward a certificate or degree, no matter where they are enrolled."
Outside the classroom or following graduation, his work as a Deputy Sector Navigator will be to match community college students and graduates with on-the-job apprenticeships and internships in IT and cybersecurity. His efforts will include networking with professionals and involvement in professional trade associations, Linthicum says.
"Our challenge is to see that students continue in an IT/digital media pathway through high school and that we nurture their desire to improve their future career prospects," he says. "It's early in the ballgame; they are investing in a career for the rest of their lives and encouraging members of their families along the same lines." Students who want to work in well-paid high-tech positions seek different certifications as they climb the job ladder in IT-cybersecurity, he notes.
Already Linthicum is a key part of young students' pathways to college training programs. He provides middle school and high school students for future IT classes through a basic cybersecurity video program, CyberPatriot Training, developed through grant funding he manages.
The CyberPatriot pathway is similar in spirit to new certificate programs at Santiago Canyon College, the Business Information Worker (BIW) and IT Technician (ITT) certificate programs. The first is a 12-unit program offered as part of the statewide Strong Workforce Initiative at Canyon High School in Orange. A cohort of 17 Canyon High School students will take two classes for eight weeks this fall and another two classes in the spring. Upon completion, they will receive a certificate that can open the door to employment.
The timing of these pathways is perfect: By 2020, there is an expected 13.6 percent spike in BIW jobs in the Los Angeles/Orange County region, and a recent posting in cyberseek.org shows 13,000 listings the Southern California area, according to the National Institute of Standards and Technology.
[ Return to top ]
---
RSCCD Resources
RSCCD's Educational Services Division also offers the following programs and services to staff, faculty, and students of Santa Ana College and Santiago Canyon College. To learn more, visit their websites, or call the contacts below. Also, look for articles featuring these departments in upcoming issues of The LINK.
Digital Media Center (DMC)
ranchodmc.com
Ruth Cossio-Muniz, Executive Director
Cossio-Muniz_Ruth@rsccd.edu
(714) 241-5810
Orange County Small Business Development Center (SBDC)
www.ocsbdc.org
David Calderon, Interim Director
Calderon_David@rsccd.edu
(714) 564-5220
RSCCD Child Development Services
www.rsccd.edu/childdevelopmentservices
Janneth Linnell, Director
Linnell_Janneth@rsccd.edu
(714) 480-7548
RSCCD Public Affairs & Publications Department
www.rsccd.edu/publicaffairs
Judy Iannaccone, Director
Iannaccone_Judy@rsccd.edu
(714) 480-7503
RSCCD Research Department
www.rsccd.edu/research
Nga Pham, Director
Pham_Nga@rsccd.edu
(714) 480-7467
RSCCD Resource Development Department
www.rsccd.edu/grants
Sarah Santoyo, Executive Director
Santoyo_Sarah@rsccd.edu
(714) 480-7463
RSCCD Workforce Development
www.rsccd.edu/workforce
Leila Mozaffari, Director
Mozaffari_Leila@rsccd.edu
(714) 480-7456
Deputy Sector Navigator, Global Trade & Logistics
www.laocrc.org/about/dsns
Lynn Stewart
Stewart_Lynn@rsccd.edu
(714) 564-5419
Deputy Sector Navigator, Information
and Communication Technologies
www.laocrc.org/about/dsns
Steve Linthicum
Linthicum_Steve@rsccd.edu
(714) 480-1417
Deputy Sector Navigator, Retail, Hospitality
and Tourism, LA/OC Regions
www.laocrht.org
Ruth Cossio-Muniz
Cossio-Muniz_Ruth@rsccd.edu
(714) 241-5810
Deputy Sector Navigator, Small Business and Entrepreneurship
www.laocrc.org/about/dsns
Angela Allison
Allison_Angela@rsccd.edu
(714) 564-5413
Orange County Director - LA/OC Regional Consortium
www.laocrc.org/about/dsns
Gustavo Chamorro, Ed.D.
Chamorro_Gustavo@rsccd.edu
(714) 564-5521
[ Return to top ]